Food & Drink
Belles Hot Chicken – Closed from 20th December until 2nd January
After ditching fine-dining in Sydney, Kiwi-born Morgan McGlone wound up in Nashville, TN. It was there, during a stint as Chef De Cuisine of the acclaimed Husk, he discovered the city's bona fides as the home of 'Hot Chicken'. So taken with the curious combo of taste-bud torching and tenderness, Morgy figured he'd found his true calling… Officially opening in Fitzroy in August 2014, Belles' crave-worthy chicken, great booze, vinyl-friendly soundtrack and legendary parties quickly proved to be a pretty good recipe for success. It wasn't long before Sydney demanded a taste of the action too. Kicking off with Barangaroo, followed up by a table service joint in the Glebe Tramsheds. With food, bev and lifestyle collabs always in the works, Belles Hot Radio streaming on the speakers, Original Draught on tap plus the odd party or two to kick off, there's always something around the corner for our Belles lovers.
VIEW BELLES HOT CHICKEN MENU
.
Click

here

to view a map of Tramsheds.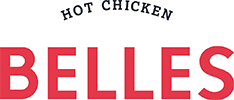 Belles Hot Chicken Trading Hours
Monday
closed
Tuesday
closed
Wednesday
11:30am-3:00pm | 5:00pm-9:00pm
Thursday
11:30am-3:00pm | 5:00pm-9:00pm
Friday
11:30am-3:00pm | 5:00pm-9:00pm
Saturday
11:30am – 9:30pm
Sunday
11:30am – 9:00pm